Cryptocurrency Weekly Price Analysis (Dec 17, 2017)
Market of cryptocurrency also known as digital asset is on moon these days. After Bitcoin crossed $10K mark[1], digital assset has become mainstream news and more investors are pouring money. Every week there is addition of 100s of billion dollars in it. This week, digital asset market shows 55% gain; adding $200 Billion to the market.
Top gainers
Cardano (ADA) –

333%

Ripple (XRP) –

200%

Litecoin (LTC) –

107%
Top looser
Let's do some analysis of top 10 cryptocurrency (by market capital) and will discuss about major events and news associated with them.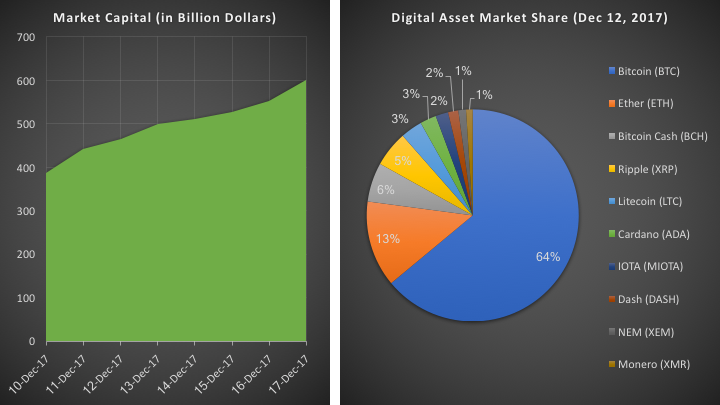 Bitcoin (BTC) – As we know, Bitcoin is the market leader and it maintained its #1 position with 64% of total market share. It created a new record by achieving all time high of $20,000 per BTC today, Dec 17, 2017. However, it rolled down by 1000 dollars, a little later and currently roaming above $19,500.
Ether (ETH) – Next position is secured by ETH, the digital currency of Ethereum. It reached its all time high over $750 on Dec 14, 2017 but rolled down soon below $700. After the struggle of a couple of days, it is back and is above $725 at the time of writing. One major catalyst was the SEC's Chairman Jay Clayton views on the cryptocurrency and ICO markets[2]. In his statement, he advise investors to exercise extreme caution and be aware of the risk involved with initial coin offerings and cryptocurrency-related investments. Most ICOs are based on Ethereum blockchain, so it is a kind of relief for blockchain startups.
Bitcoin Cash (BCH) – It was a happening week for Bitcoin cash. The price reached over $2000 again. Blockchain, a popular Bitcoin wallet announced adding support to Bitcoin Cash[3]. Roger Ver went ahead advocating Bitcoin Cash. He said, "Bitcoin Cash is the true Peer to Peer electroninc cash".
Ripple (XRP) – It showed magnificent 200% growth in market capital this week. Market price jumped from $0.23 on Dec 10, 2017 to a record high of $0.89 on December 14, 2017. At present it holds 5% of total market share with $28.5 billion market cap. By the end of last week, there were some major announcement from the team about escrowing 55 billion XRP. Also, Japan Bank Consortium (JBC) announced that they would be production-ready[4] with a unified platform for domestic and cross-border payments using Ripple solutions. May be the price rise this week was after effect.
Litecoin (LTC) – It was again a good week for LTC. Last week LTC was soaring and more than 70% price hike recorded[5]. It continued the trend and showed more than 100% growth this week in market capital. The price hit all time high $341 on Dec 12, 2017. Starting the week from $137 , at persent the price is over $333 with a market share of 3% worth $17.4 billion.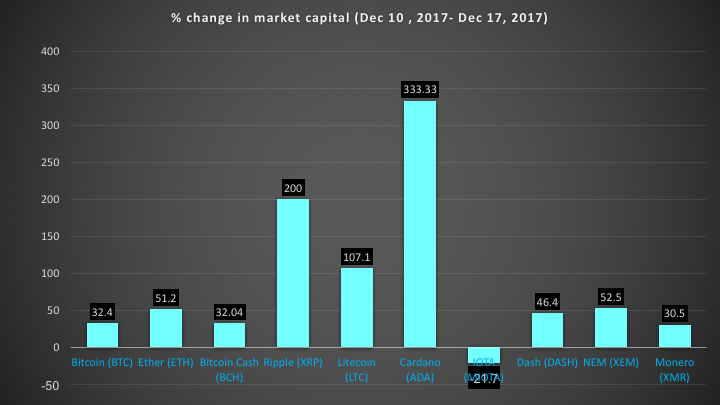 Cardano (ADA) – It appeared out of thin air, yeah for real. Many of us who have been watching cryptocurrency for some time have started wondering what is Cardano? Under top 10 … okay, at #6, how?? Well, this is a currency that shows 333% growth in market capital in one week. Listed in October 2017[6], it acquires more than $13 billion market capital; thats amazing. Charlie Lee, the creator of LTC said[7], "Either the market is crazy or Cardano will end world hunger." Cardano, also called the "Ethereum of Japan" because 95% of the participants in the ADA Initial Coin Offering (ICO) were Japanese[8]. Cardano, established by Charles Hoskinson, a co-founder of Ethereum; is a decentralized, fully open-source blockchain project that extends beyond ADA. The Cardano ICO took place in 4 stages between September 2015 – January2017. Research paper on the project can be found here[9]. Today, Dec 17, 2017, it attained its all time high $0.59 per ADA.
IOTA (MIOTA) – This project could not perform as good as others. Instead it recorded a loss of more than 21% market capital since last week. Previous week, IOTA recorded all time high of $5.5 [10] and was on #4 in top 10 cryptocurrency chart. Currently, it holds a value of $3.91 and has a market capital of $10.1 Billion.
Dash (DASH) – It showed over 46% growth in market capital since last week. It is an average growth for a digital asset considering 55% overall growth of the market, yet recorded all time high $1178 per DASH today. At present, price is still holding above $1140 with a total market capital of $8.8 Billion.
NEM (XEM) – It had an average week, showing a growth of more than 52%, recorded all time high $0.47 today. It takes about 1% share with a market cap of $6.7 Billion.
Monero (XMR) – It slipped to #10 position because Cardano jumped t to #6 this week. Otherwise it had a good week overall. It recorded an all time high $365 today with an increase of 30.5% in market capital. It had offered Christmas gift last week, 50 online stores including top musicians are accepting Monero[11] this holiday season.
Many other digital currency attained it's all time high. Market is super hot with $600 Billion asset. Overall, it was a good week for the cryptocurrency supporters.
Follow us at Twitter[12], Facebook[13], Google+[14], Steemit[15] and Medium[16]. For weekly newsletter, subscribe here[17]. For publishing Press Release and free listing of ICO[18] at our website, email at contact@etherworld.co[19].